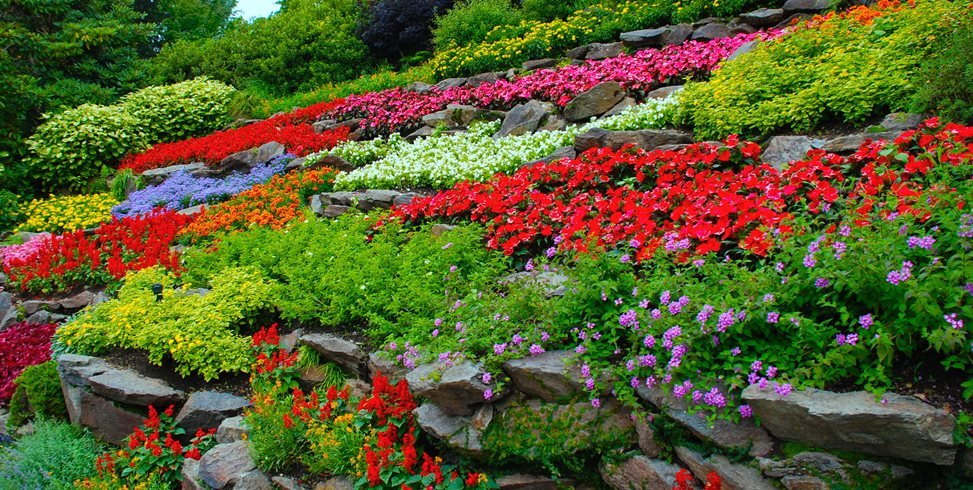 There are many benefits to designing native plant gardens. They look beautiful and provide ecological benefits such as attracting butterflies and birds. Here are a few ways to create a natural oasis in your yard.
The Cottage Garden
This type of garden is often informal, with a mix of flowers and vegetables. Paths wind around corners and usually lead from the front door to the back of the garden. Make these paths wide enough to accommodate a lawn mower or wheelbarrow.
The planting beds curve to create a more natural look. Arrange the plants in groups of three or five. There should be a variety of plant heights to create interest.
The Formal Garden
This garden has straight lines and symmetrical shapes. Plants appear in groups or rows. To create a good layout, consider the size of the area you have to work with.
If you have a large area, create a more elaborate garden design. If you only have a small space, focus on creating a more simple and elegant garden design.
The Wildflower Garden
As the name suggests, it contains native wildflowers. This can create a meadow-like feel in your backyard. Wildflowers are easy to grow and provide color throughout the growing season.
Choose a location that gets at least six hours of sun per day, as wildflowers need lots of sun to bloom well. Prepare the soil by loosening it and adding some organic matter.
Plant your wildflowers in clumps or drifts rather than rows to give the garden a more natural look. After this, select various wildflowers that will bloom at different times. This will keep your garden looking colorful all season long.
The Butterfly Garden
The design of this garden attracts butterflies. Flowers have bright colors, are fragrant, and provide shelter and food for butterflies.
Plant various flowers that will bloom at different times throughout the growing season. Doing this will make some nectar available for the butterflies to feed on.
Butterfly gardens should also include a water source. A small pond or birdbath is ideal, as it provides a place for the butterflies to drink and bathe.
The Shade Garden
A shade garden is perfect for areas that don't get a lot of sun. Many beautiful shade-loving plants will thrive in this type of environment.
Different plants thrive in a shade garden, including ferns, hostas, impatiens, and begonias. These plants also need mulch. Mulch helps to keep moisture in the soil and to control weeds. Common elements like paths, ponds, and seating areas create a beautiful shade garden.
The Water Garden
A water-based garden features aquatic plants native to your area. You can make water gardens from a container filled with water and a few plants. They can also be elaborate ponds with waterfalls and aquatic plants.
A water garden has a liner made of durable material that holds the water in the garden. Many water-proof liners are available, including rubber, PVC, and liner fabric.
This garden has a pump circulating the water to create the waterfall or fountain effect. Without a pump, the water would sit in the garden and become stagnant.
Water gardens contain plants like water lilies, lotus flowers, and irises. The plants help to oxygenate the water and provide a habitat for aquatic creatures.
The Rock Garden
Rock gardens are suitable for areas with rocky soil. Plants native to mountainous regions grow in this type of garden.
The rocks create pathways and steps or act as decoration. Use pebbles to fill in gaps between larger rocks or use them on their own to create a more natural look.
The Herb Garden
It contains aromatic herbs used for cooking or crafts. The herbs sit in neat rows or geometric patterns.
Most herbs need at least six hours of direct sunlight per day, so choose a spot that gets plenty of sun. If you don't have a sunny spot, you can also grow herbs in containers placed in a sunny location.
Herbs prefer well-drained, loose soil. If your soil is heavy or clay-like, mix in some sand or organic matter to improve drainage. Most herbs also need moderate watering. Check the requirements of each herb, as some are more drought-tolerant than others.
They will also need a light fertilizer during the growing season every few weeks. A balanced, all-purpose fertilizer will do the trick.
The Xeriscape
This garden type thrives in areas with little rainfall. The plants here are drought tolerant and have low water needs. You can incorporate rocks, gravel, and other materials that need little or no water. Since a xeriscape garden helps to conserve water, use drip irrigation systems.
Finding Native Plants at Local Nurseries or Online
Looking for native plants can be a daunting task, but a few resources can help. Local nurseries and plant societies are a great place to start as the staff knows the local flora. You can also find many online retailers who specialize in native plants.
When shopping for native plants, check if they are native to your area. Many nurseries sell plants labeled as "native" but may not be in your area. Some native plants can become invasive if not kept in check. Once you have found a few potential sources for native plants, read about how to best care for your desired selection.
Also, ask questions about their care and maintenance. You will find the perfect native plants for your garden with little effort.
Plan Your Native Plant Gardens Before Planting
Planning your garden before planting may seem like a lot of work, but it will be worth it in the end. Here are a few things you should consider when planning your garden:
Decide on the size of your garden: This will help you determine how much space you have to work with. Consider growing smaller plants if you have a small space.
Know the type of plants you want to grow: Do you want to grow flowers, vegetables, or both? Once you know what plants you want, start planning where to plant them.
Choose your garden's location: Determine how much sunlight and water your plants need. Once you plan out these things, start planting your garden.
Start Your Garden Today
Native plant gardens are becoming popular, and many people have varied tastes. Follow the tips above, and you'll be on your way to creating a beautiful oasis right in your backyard. Use a reputable landscaping business for your native plant gardens.
Do you have any questions about this article? Click here to contact us today.