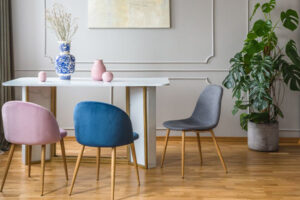 Your home makes you feel complete and it sure is strange how every room has its own identity with seemingly nothing in common.
If you are one of those homeowners that like to match things throughout the home or do you prefer to mix things up to showcase a diverse living, there is a way you can have both thanks to luxury vinyl flooring.
Sometimes even the most subtle things linking the rooms can provide a sense of completeness whilst having things different can offset the vibe of the home completely – how can vinyl flooring effortlessly make two rooms perfectly fluid?
Living Room to the Kitchen
People like to have carpets in their living rooms – but carpets are hardly ever utilised in the kitchen. It's too much of a risk with the amounts of sauces and spills that can forever tarnish a great carpet.
Homeowners tend to have two different flooring options which rarely complement each other, with a border between doorways that tend to feel very disjointed. The other option is to have a complete joining between both rooms via the use of luxury vinyl flooring. Not only does it perfectly replicate the look of real hardwood flooring, but it also has many protective properties no matter which room poses a challenge.
If you have heavy furniture in one room that requires a highly durable floor whilst the other requires something that can be easily maintained and resistant to stains and moisture, then Luvanto luxury vinyl flooring is an option that takes away the connection concerns whilst providing one full look for the bottom level of the home.
Top Level
The top floor of the home is where personalities differ greatly between the main bedrooms, children's rooms, and bathroom.
These are rooms that are meant to have individuality and decor and not match up together, with laminate chosen for bathrooms whilst a carpet may run through all bedrooms and the landing space. This also allows some rooms to have a duller shade of carpet than others, especially if certain rooms do not get as much natural sunlight. Kids bedroom carpets tend to also get a bit messier than a parents bedroom, requiring something pretty sustainable.
By having the cost-effective and durable vinyl flooring option throughout the top floor, you not only can keep each identity different, but you can also withstand all kinds of problems that your current flooring faces every day with a greater success rate. Different designs of vinyl can perfectly interlink without looking disjointed meaning that whilst moisture and heat resistance in the bathroom can provide satisfaction – whilst scratch and stain resistance in the kid's bedroom mean that no amount of play will result in lasting damage.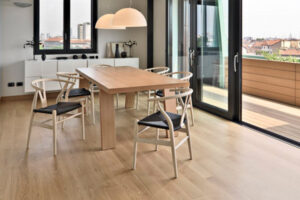 Underfloor heating systems can provide overall warmth throughout the house as well as underfoot comfort, meaning that every room feels the same levels of constant comfort, and luxury vinyl flooring is a perfect layer on top.
If your home needs to feel connected in a stylish and high concept fashion, Luvanto luxury vinyl flooring is the best investment to make it feel all as one.
Do you have any questions about this article? Click here to contact us today.