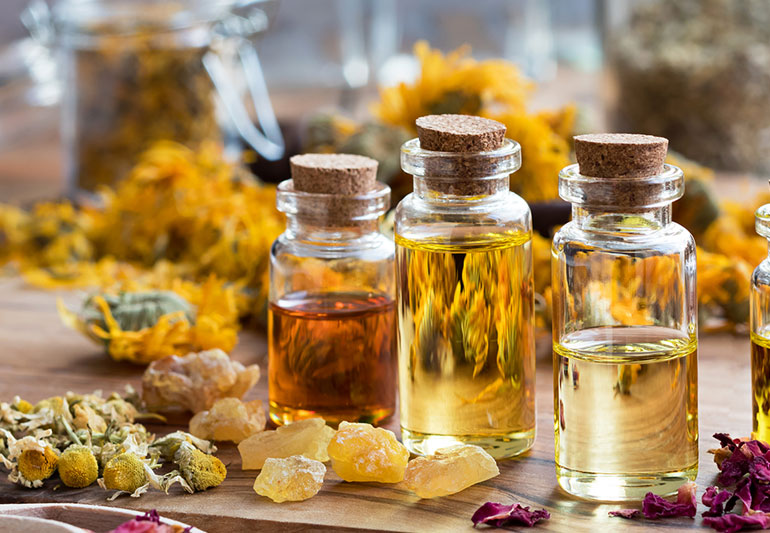 Essential oils are plant extracts that maintain their source's natural scent and flavor. These oils are increasing in popularity, and for a good reason: they are natural, powerful, and beneficial. Here are some uses and benefits of oils:
Uses of Essential Oils
Essential oils are a natural, cost-effective alternative to synthetic fragrances and beauty products. People use them in various ways, including:
Aromatherapy
Aromatherapy uses natural plant extracts to offer therapeutic benefits. This holistic healing approach creates balance and harmony by enhancing the health and wellness of the body, mind, and spirit.
In aromatherapy, the application of essential oils can be via inhalation or topical applications. When inhaled, the scent affects the brain's limbic system, which deals with emotions, memory, sex drive, and learning. Inhaling these oils stimulates other bodily responses such as heart rate, breathing patterns, and blood pressure. You can inhale the oils through dry evaporation, diffuser, steam, humidifier, or aroma sticks.
For topical application, you can apply these oils directly to the skin through a bath or massage. Rubbing down the area of application can increase absorption and improve circulation. You should never apply these oils directly to the skin without diluting them with a carrier oil.
Aromatherapy offers a wide range of benefits. It can help to:
Improve sleep quality
Improve digestion
Relieve anxiety and stress
Reduce pain
Strengthen the immune system
Balance hormone levels
It's recommended not to swallow or ingest essential oils as they can cause esophagus irritation or damage the kidneys and liver.
Cleaning and Disinfecting
Many essential oils have antimicrobial, antifungal, and antibacterial properties. They can supplement your regular cleaning routine to provide a more natural way to clean your home.
Besides inhibiting bacteria and germs, these oils add a lovely fragrance to your house. They clean and deodorize the air to bring freshness to your surroundings.
Some of the best oils for disinfecting and cleansing include:
Cinnamon oil
Thyme oil
Tea tree oil
Oregano oil
Peppermint oil
Eucalyptus oil
Clove oil
Lemon oil
While these oils have antiseptic qualities, some are better than others. You need to research and compare their effectiveness to pick the perfect choice.
Benefits of Essential Oils
These plant extracts offer multiple medicinal and therapeutic benefits. Here are some lesser-known benefits:
Balancing Hormones
Hormonal imbalance occurs when you have too much or too little of one or more hormones in the body like cortisol, estrogen, insulin, thyroid hormones, or testosterone. The imbalance can result from an unhealthy diet, pregnancy, diabetes, and thyroid issues. Effects of hormonal imbalance include mood swings, infertility, constipation, low sex drive, insomnia, acne, or unexplained weight gain or loss.
If you experience mild hormonal imbalances, consider essential oils. Some oils that can help with hormonal imbalance include:
Clary sage
Ylang-ylang
Geranium
Lavender
Thyme
Bergamot
These oils help to restore hormonal balance by complementing the bodily systems that regulate and influence hormones. During aromatherapy, the scent travels to the amygdala (the brain's emotional center). It stimulates this brain part to release endorphins or "feel good" hormones such as serotonin. Endorphins reduce cortisol production and alleviate stress, depression, and anxiety.
Some oils can reduce menstrual cramps, improve libido, and help with issues such as low progesterone levels or infertility.
Help Boost Immunity
Essential oils help to boost your immune system. They contain various compounds that have immune-boosting and pharmacological properties. Some of these compounds are:
Ketones
Aldehydes
Alcohols
Ethers
Carbohydrates
Lavender and lemon oil have antioxidants that protect your body cells from free radicals. These oils reduce stress and promote relaxation, enabling you to have enough restorative sleep. Minimal stress and adequate sleep are some of the contributing factors to stronger immunity.
These oils have powerful cleansing properties. They may purify the air to help you breathe.
Improve Energy Levels
If you are experiencing low energy levels or fatigue, try using essential oils. These plant extracts can help you revitalize and give you the energy boost to start your day or to keep you active.
These oils can help improve focus and concentration, lift mood, and reduce tiredness and fatigue, along with providing an energy boost. You can use them in the morning, at night, or round the clock. Some oils that help to rejuvenate your energy levels include peppermint, lemon, lavender, rosemary, and cinnamon.
Improve Brain Function
Various oils such as rosemary, peppermint, sage, basil, and jasmine can positively impact your brain. The oils have shown signs of reducing mental fatigue, stress, and brain fog. These oils may improve memory, focus and concentration, alertness, and cognitive function.
The plant extracts have been used for patients with brain injury, concussion, brain ischemia, and diseases like Parkinson's and Alzheimer's. They may offer a natural way to reduce the consequences of aging.
Wrap Up
Essential oils are rich in compounds that improve your overall health and well-being. Get quality oils and research proper use for optimal benefits. You can benefit from the holistic properties of essential oils.